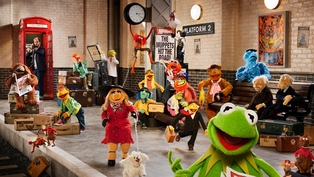 From RTE ten
The Muppets will hit Dublin as part of their world tour in their new movie but there's no promise that Kermit and co will be coming to film any of the scenes here.
Described as "an international crime caper" with Kermit a dead ringer for the "World's Number One Criminal", The Muppets... Again! is currently filming in London.
The movie, direcxted by James Bobin, sees Ricky Gervais, Ty Burrell and Tina Fey joining the gang.
Along with Dublin, The Muppets will also play in London, Berlin and Madrid in the movie.
From entertainment.ie
There we were, minding our own business on the Twitter machine when Disney Movies Ireland went and dropped a bombshell: The Muppets crew are only coming to Dublin in scenes from the upcoming sequel!
Muppets...Again sees the gang set out on a world tour only to find themselves mixed up with a criminal mastermind named Constantine. It doesn't help that this crafty creature is a dead ringer for our favourite amphibian, but we're sure chaos and hilarity ensues. Anyway, Dublin is one of the stops on the tour, though it's still unclear whether the gang will actually come here or just send their location crew to take some footage.
So, we could be seeing the Muppets in Dublin sooner than we thought, though we won't see the film until it hits theatres in March 2014.
Update: February 7, 2013 - Latest on the confusion if or if not they are coming to film in Ireland - from @DisneyMoviesIrl
Wow, a lot of people VERY excited about our Muppets news. Just to clarify the confirmed details. Dublin has been added to the list of tour locations which the Muppets will perform in during their global tour IN THE MOVIE 'The Muppets….Again!' Apologies for any confusion.
#Muppets