From digitalspy.ca
By Adam Silverstein
Could you imagine life without Kermit, Miss Piggy or Gonzo? What a depressing thought... But when Jim Henson invented The Muppets in 1955, it's a safe bet he never predicted the impact they'd go on to make. Millions of children the world over have been brought up on his puppet creations for generations now.

With the next and technically eighth movie in the franchise making its way to screens in March, Digital Spy made the trip to the legendary Pinewood Studios on the outskirts of London to visit the set, meet the cast (frog, pig and all) and find out what it takes to make those Muppets tick.
The upcoming film, Muppets Most Wanted, could be one of the most fascinating yet - at least for fans of the man who gave us
David Brent
.
Ricky Gervais
was an unexpected but inspiring choice to lead the cast, while Ty Burrell (from that
four-time Emmy-winning comedy
) and Tina Fey are sturdier picks than the
last movie
's team of Jason Segel and a pre-Lois Lane Amy Adams.

The list of rumored cameos in the James Bobin-directed flick even features Lady Gaga, Tom Hiddleston and Christoph Waltz - not even an Elton John dinner dance could bag such Hollywood royalty.

The plot sees The Muppets go on a global tour after the success of their last film, selling out theatres in London, Berlin, Madrid and Dublin. Then, they find themselves unwittingly involved in an international crime caper headed by Constantine, aka a dead ringer for Kermit and the World's Number One Criminal.
Gervais takes on the role of bad guy Dominic Badguy (get it?), Constantine's sidekick. "I'm a sidekick to a frog! No, not the vice-president. A frog!" he informs us with his arms flailing. Still, the comedian said that he "loves playing a baddie" and added: "There's something fundamentally more exciting as an actor to play evil. Particularly when you're deconstructing it in a loved children's franchise.
And just like that
infamous moment
from The Office, Gervais once again gets down and boogies for the camera - only this time, there's some singing involved. "I am doing a song-and-dance number," he said, eyes shuddering in fear. "It's a big Hollywood song and dance, me and the frog. There's tap dancing and up-and-down stairs. I'm a pretty good singer - I rate myself at singing. Dancing? I'm your dad at a party."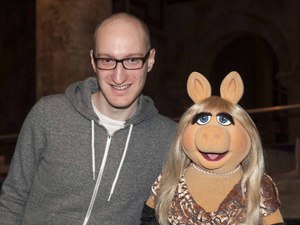 But just because Gervais has the lead part doesn't mean he gets to be the biggest diva on set. Kermit revealed that that tag is saved for a special someone: "In the battle of who would be the biggest diva, Piggy would have to win. It's just part of the deal. In fact, it literally is in her contract - she has the biggest trailer, she has to be the biggest diva. But Ricky's not really a diva - he's an honorary Muppet now."
Aside from Miss Piggy's humongous trailer, the set felt like a giant love letter to her and her co-stars. An entire Muppets Workshop was stationed about a five-minute walk from the big studio and past the slightly larger 007 Stage which, aside from most Bond works, was also used for both Harry Potter and Lara Croft.
The Muppets Workshop, though, was a Hogwarts in itself - this is the magical place where every nook and cranny of a Muppet is built, from Animal's bushy eyebrows to Miss Piggy's vast wardrobe.
Kermit also made it known that he was happy to be back in the UK, declaring: "I love England, I love the whole of the UK. We worked in London for many years doing The Muppet Show. A lot of people don't know that, we were in a little town called Elstree.
"We haven't shot a film in London for about 20 years - it's wonderful to come back here and meet up with all my pals from before. Look at these sets! The guys that built these, I'm so impressed."
One mightily impressive set was a towering chapel that looked like it was ready to hold the wedding of the year. Piggy did say she and 'Kermie' were "in a fabulous place" in their relationship and "things could not be better", but producer Todd Lieberman hinted: "There's a big event at the end. I'm not going to exactly say who might be getting married, but I think people are going to be surprised when they see what it's going to be and the reveal of what it actually is."
Lieberman, who was behind the last film, also revealed that Piggy has a lot to do this time around. "She's, erm, she's a lovely, lovely pig. And a complicated individual. She has so many solos in this movie - she's got a big song, she gets to perform multiple times, she has a good love story. She's pretty satisfied."
And if Kermit was ever worried about his significant other's aging beauty, he can rest easy. "Botox? No, no, no, no," she dismissed. "It's Restylane. They actually form Restylane from pigs, so I don't have to inject it - it's there naturally."
Piggy also told DS she was pleased to be back in London... not that she's seen any of it. "I was very excited to be shooting this movie over here, but to tell you the truth I've not gotten to see much of it. I'm constantly on set. And when I say I'm constantly on set, I mean I'm constantly in my dressing room refusing to come out onto set." Typical diva.
Even Gervais had had enough of Piggy by the time we caught up with him. "She's high-maintenance. She's alright, but she's not in my gang." Your gang? "Constantine, he's my man. And Pepe the Prawn... King Prawn - he corrected me first time I met him. I said, 'What's the difference between a prawn and a shrimp?' He said, 'Zit's all about zee size, baby'."
"But I still haven't got over the thrill of being bullied by a frog," he smiled. "It's great. He insults me, he's much smaller than me. But he's in charge. It's perfect."
Ricky Gervais singing and dancing, The Muppets back in London and a big chapel secret just before the end credits. We can't wait.
Muppets Most Wanted is released on March 21, 2014.